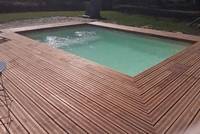 Hello Daniel,

I come back to you to show you the final result of the pool ...
We took good advantage and I wanted to thank you for the construction guide and all the exchanges that we could have by email to answer my questions.
We had a "super first summer" last year.
I would add that do not listen to people skeptical about this project but go to the end of his desires, the result is exceptional ...

Thanking you
Florent.