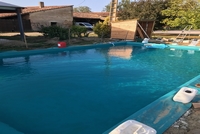 I'm really impressed about the concept, I think I gave the desire to use your concept to build an
inground pool of the people around me !
Total cost without the terraces is 4000 euros with 600 euros including of weld done by a professional.
I can't stop smiling when I think about it...