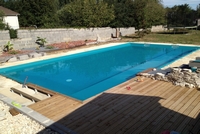 « After three months of work our pool is full of water – the family is so happy !
Thanks to the speed of the construction we have been able to make the most of the pool all summer long!
The method described in Mr Liaigre's book allowed me to carry out my project, a 10x5m swimming pool with a minimum depth of 1m and maximum depth of 1,70m.
The total cost of the pool was 5100€ of material including cleaning and maintenance products ! (excluding the decking)
In detail we paid 600€ for the hire of the minidigger, 1900€ for the filatration system, 1000€ for the geotextile membrane and the rest was for the purchase of cement, sand, electric cable, material for the construction of the pool house, connection to the water mains etc.
The method described in Mr Liaigre's work has been adapted for this project. The rectangular shape of the pool was studied with CAD to keep the formation of folds to a minimum. All the inclined slopes were covered with a layer of concrete so that they would be as smooth as possible before the geotextile was laid.
Only the access ramp is in reinforced concrete !
The folds, having all been placed in the corners, were got rid of by cutting and glueing.
The pool has been tested intensively for two months by teenagers who don't use it gently. (« bombing », leaning with both feet together on the sloping surfaces in order to propulse themselves onto the others, volleyball and so on) and absolutely nothing has moved or been displaced !
The access ramp allows for a progressive descent into the water and the shallowness means that the temperature of the water rises (The temperataure of the water reached 30° all over the pool in July).
It also means that younger children can enjoy the pool, under adult supervision of course !
There you have it, I can recommend this type of project to everyone. It is perfectly viable and the financial savings are obvious !
You just need courage for the hardwork which is rewarded when you swim in the pool for the first time! »

Nicolas.C