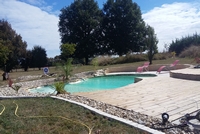 Hi Daniel,

I have met you in 2002 at this moment you were start building your pool (Already several years ago ) and I immediatly though it was a wonderful project.
My job is in the building trade, and when you exposed your project of build an in ground pool for less than 2500€ to me I decided right after that when I will have my home I will build a pool like that. 
For me the project begins in June 2013 and before the 14th of July my swimming pool was operational. Right after I was hosting about 20 cousins who tested it from all angles…
The budget for filtration + geomembrane, earthwork = 3000.00€ .
For the development, wooden terrace = 650.00€.
Reclaiming rocks for the low wall and few bags of mortar and it is done.
Finally some rocks garden, with the edges with a budget of 500.00€ + plants 150€ and 4 LED light spots, wiring, ducting included 120€.

Beyond the cost who is quit derisory compared to the conventionals in ground pools, it's an innovative concept that you share with your website and your book Daniel, with all the necessary informations and explanations.
All pools in the testimonials are beautiful and there is no doubt that your concept is really reliable.
All this pools are uniques, seems to be according to the wishes of their owners, and that's the creativity of your concept. The only limit is our imagination.
There is no conventionals pools who could be changed, modulated like these pools build with the Daniel's concept.
Daniel it's a dream who become affordable for everyone that you have created in sharing your idea. Im not sure that everybody would have share it like youd did.

Thank you a lot Daniel, for your idea,  your sharing, and your help that you provided me, your advice etc.