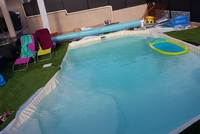 We planned to make build a pool and we hesited between a shell-shaped pool or a tiled pool we choosed the shell-shaped pool but it was 18000 euros for a simple shape, and we are not budgeting for that.
After few research on the internet, I found the Mister Liaigre's website, and thank's to him we have now our swimming pool for a cost of 6000 euros all-incluvise price, with jet-swim, heat pump, ph regulator, and all materials for the pool, terracement, concrete...
My land is atypic, clay soil, I dug the hole myself with a mini excavator, but unfortunately I did it to hard and so I had some straight walls and that is why I concreted the inner circumference.
I preferred to use lime and concrete with sand to smooth the walls, and make disappeare a maximum of asperity, I placed some sand to the floor, with an adapted shape for our daughter with a small pond with differents depths 70cm, 90 and 140cm for the innermost, and at the end of the swimming pool there is a one meter step to go out of the pool.
We had choose too install a LED spot with different colors, I advise you to do it even if it's expensive.
For the fold I bought on the internet a welding machine « Weldy » cheaper than the brand « Leister » for 200 euros with the kit and I correct all the fold during a weekend and I never did that before, it's available to everyone.
I am really happy now, thank's to M.Liaigre and that we have profited all the summer, with ours daugter, and ours friends are bluffed. I highly recommend that process, and thank's again to mister Liaigre for all his advices.
Well we will end up the terrace next year for now I prefer get some rest and enjoy my swimming pool.
PS : My garden is in raised restanque so generally, we can't do this process because of the pushing water but, my wall is a retaining chipboard wall with branch of 20 cm, more rattle than in standard...