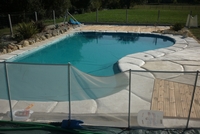 « After 1 year our little corner of paradise is finished.
The beginning of the work was complicated, we came across an underground stream, inspite of that we carried on but with some doubts.
15 jours went by between the two photos, that's a short time for the building of a pool ! Especially of that size (12 x 7 m).
The longest part of the work was the decorative work around it but we are very happy because each pool using this concept is unique.

Our friends and our families had a lot of doubts about the finish and the quality, after two summers they are convinced and are starting to imagine their own pools …....
Thank you for taking the time to answer the questions about our doubts.
Thank you for sharing. Without your concept we would be a long way from having a pool... »