The ebook
Build an in ground pool with the shape of your choice, with lighting, without structure, without concrete, built directly on the soil... The cheapest concept currently existing.
If you are thinking of or dreaming of building your pool yourself, then this website is for you.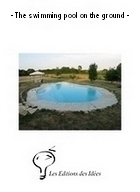 The Swimming Pool On The Ground by Daniel Liaigre - (Les Éditions des Idées)
E-book 126 pages, printable PDF format, 193 pages, 101 Mo.
Discover, a full book in English version to allow you to build an in-ground pool, easily and at a price which defies all competition.
"In this work, you will not find any complicated mathematical formula, calculations of forces or anything like that. The man on the street is not a building specialist.
On the contrary, this study has been conceived so that it can easily be carried out.
The possibility of building a pool is made available to a great number of people who will be able to build a pool in the shape of their choice at a price which defies all competition. 
A concept which can be adapted to an unlimited number of constructions."
Click on the labels below to see a selection of pages.





Summary

Part 1 : The Pool

1 - Implantation  and design
2 - Digging the hole
3 - Preparation of the hole
4 - Fitting the skimmers and discharge outlets
5 - Preparation before filling
6 - Filling
7 - Treatment of the water, cleaning and getting rid of green water
8 - Materials, prices, suppliers

Part 2 : Decking

1 - Decking in artificial stone and natural opus incertum
2 - Submerged decorative wall
3 - Wooden decking
4 - Description of the final project

Even if the prices of some supplies have gone up since 2002, the price rises are not enough to penalise a project which has such a low basic cost.
 
Based on an  extremely reliable concept, with a very low cost, this is certainly the easiest and fastest method of building an in-ground pool, and apart from  two or three steps, this type of project  does not need a lot of precision on the contrary to a concrete base pool. You just need to respect a few rules.

Its solidity has nothing to envy a concrete pool, the first construction is now entering its 22th year and is doing well, The experience is there...