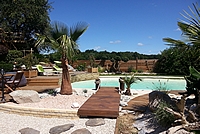 « Work started at the september-end 2016

It took over 3 little weeks to dig with the backhoe, shape, buil and floor the geomembran that I left without filled of the winter.
During this time I took the opportunity to transform the tallu with a low wall, and the massif around the pool, terrace in the tree, etc, I precise that I didn't work all the winter...
In April the filling, and the finitions of the edge, low wall in stone of the pool, grass, hut, and the 15 may bathing into 24 degrees water.

For the pool, pump, and all materials the cost is 3000 euros.
And  for the rest, stones, bamboos, timber, floating wood, rocks, and all the things who can embellish the surrounding pool.
Of course the terrace woods, palisade, gravel, and some plants increase the price, but it's still a reasonable price.

Thank's to Daniel, without him I may not have the motivation to go into a such project...»

Didier