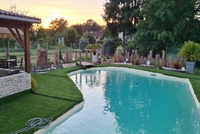 Good evening, as planned I am coming to keep you informed of the progress of my work concerning my swimming pool ...
As you will see, not only did I make the swimming pool and a pool house of which you have already seen the photos in my last mails.
I also made all the surroundings of the basin with different massifs, it has become a small paradise where it is very pleasant to spend time there even without swimming, in a while I would send you a CD where you can see all the progress of the work...
Once again, thank you for allowing me to realize what your concept could bring me and to realize my own little piece of paradise.
Thanks again.
Here are some pictures that show it to you...
Brice